Best Truck Tool Box Brands In 2022
Shopping for the right truck accessories can be a very personal experience because there are so many options out there and each one is designed to meet the needs of a different type of truck owner. This is as true for lighting upgrades as it is for tool boxes, and the result can lead to an overabundance of choices. Luckily, a little time and understanding can help you cut through the noise so it's easier to identify the right options for your truck and your daily work needs.
Types of Truck Tool Boxes
There are four basic types of truck tool box, and most of the time the right style is a matter of personal choice. Once you narrow it down to the right kind of box, it's also a good idea to check out the fitment, to make sure you are shopping for options that fit your truck.
Buying a tool box that doesn't quite suit the vehicle is about as useful as just buying a portable shop toolbox and calling it a day. It's not the worst thing, but it is not giving you the benefits you paid for.
Flatbed Tool Boxes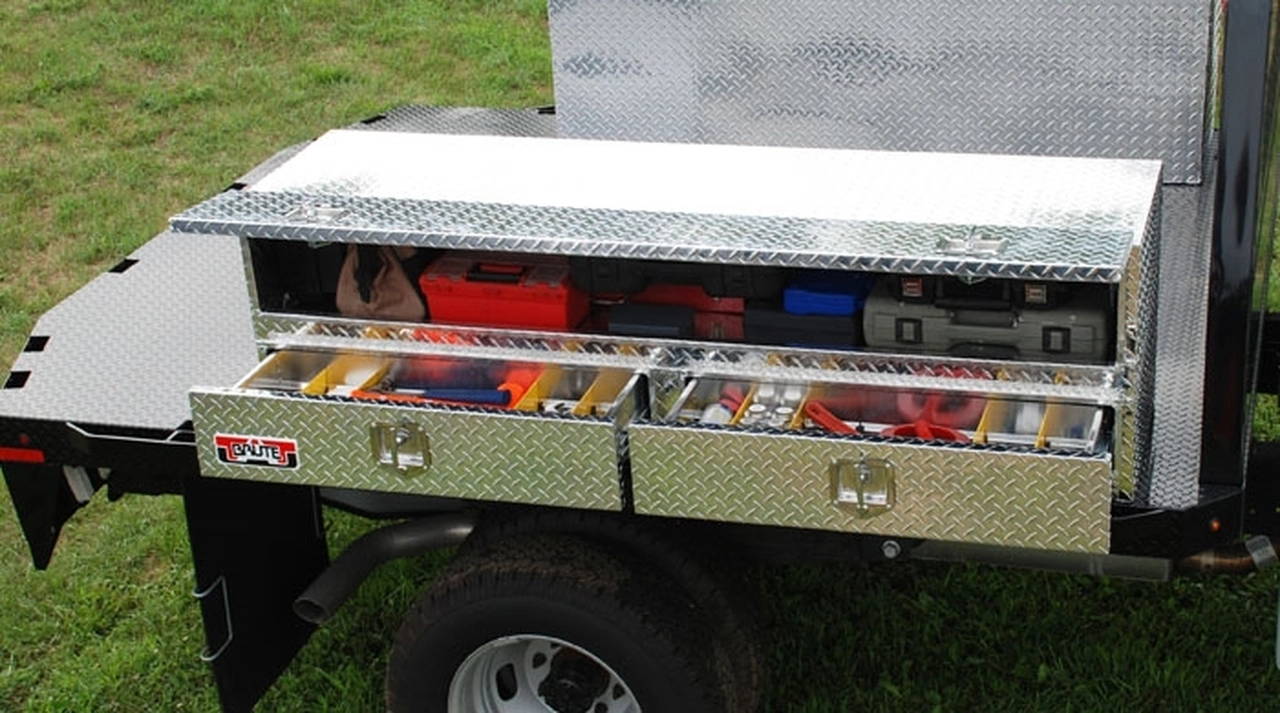 Th flatbed tool box style is made to mount to a flat, open bed, allowing you to build a modular storage array on the sides of the truck bed. They are designed to be accessed from the side or top, and the right combination of storage boxes can provide you with an entirely customized tool layout.
Chest Style Boxes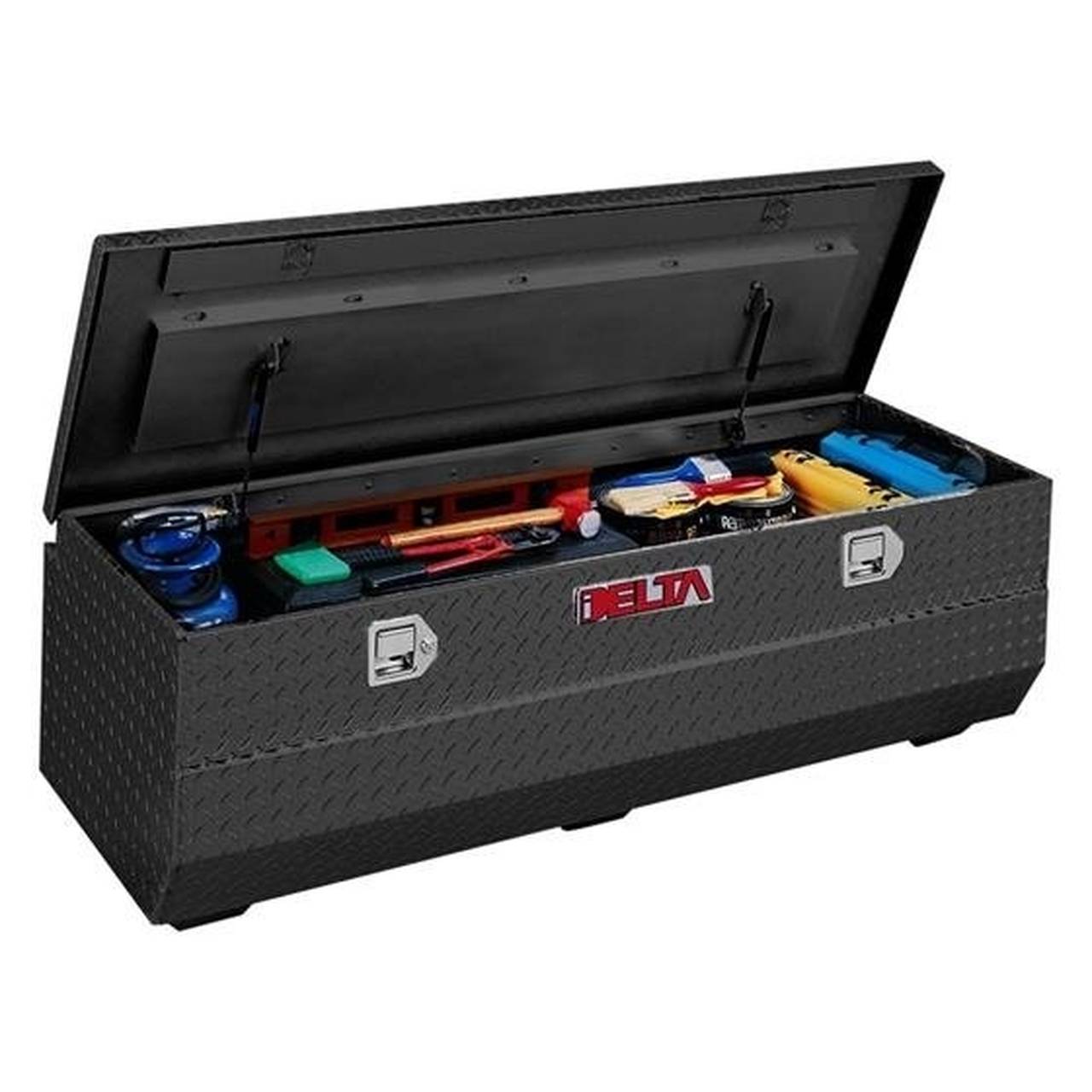 The chest style toolbox is most like the tool chest you probably have in your garage. It's styled after them, with the key difference that it mounts in the bed of the truck so it doesn't move.
Most of the time, chest tool boxes fit back near the cab to provide you with easy access to the truck bed for cargo. That makes them incredibly useful for those whose work involves picking up landscaping or building supplies.
5th Wheel Tool Boxes
The 5th wheel tool box design style is built around the needs of drivers who regularly use 5th wheel accessories or gooseneck trailer attachments. They are built to provide access even when you have a trailer attached.
Combination Tool Box Designs
If you have been considering adding additional fuel storage, a combination tool box is probably the right choice. You can buy a tool box separately from your additional fuel storage if you need a lot of fuel, but for most truck owners a combination tool box is just perfect because it has both tool chest style storage and room for additional fuel. This lets you refuel yourself, your recreational vehicles, or even other drivers when a gas station is not around.
Selecting The Right Material
Truck tool boxes are mainly made of either steel, aluminum, or a high-quality plastic resin that is designed for maximum strength and long life. The right material is a matter of weight and durability. Shop for the level of protection required, but keep an eye on how much additional mass you add to the vehicle to avoid lowering your cargo or towing capacity when purchasing larger tool boxes.
Top Truck Tool Box Brands
It never hurts to shop for a known quantity. If you want high quality, these top brands are producing the most robust and feature-rich tool boxes on the market today.
Each manufacturer offers options that are designed around a different combination of storage capacity and organizational layout, but all of them have great options.
Understanding Your Truck Tool Box Needs
Before shopping for a new tool box for your truck, it's a good idea to do a careful inventory of your storage needs and the amount of space required to meet them. That might seem like a simple starting point, but you would be surprised how many people start from a budget perspective and wind up having to supplement a tool box with modular or portable storage.
To keep your work organized and your tools accessible, you need each compartment to suit the tools that go in it so you don't wind up with a grab-bag pile in any one area. This is just as important as enough overall space.
Materials are also essential, and that is why you need to ask yourself what kind of environment you're going to work in. Is it more important to avoid adding extra weight to the truck or to have more security against damage if something falls on the toolbox or the truck more generally?
What about the locks and other security features offered, do they match the value of the tools they will be protecting? Expensive equipment should have a rugged lock with a complex locking mechanism, but everyday hand tools can probably be secured safely with a simple disc lock.
Keep these thoughts in mind as you shop, and remember, it's probably also a good idea to buy a tool box with enough space for you to make additions to your loadout as needed without having to upgrade. That way your new tool box will not need an upgrade for a while.