How To Install A Truck Tool Box: With and Without Drilling
Tool boxes are essential accessories that no truck owner can do without. Whether you work hard, play hard or both, having a tool box in your rig ensures you have gear on-hand to get yourself out of a jam. Equipping your truck tool box is a straightforward affair: Select a tool box, install and done. Naturally, you may have questions. How do you choose the best tool box for your truck? Can you install a tool box without drilling? Keep reading to get the answers to these and other truck tool box questions.
Choose The Right Tool Box
Leonard Accessories stocks a large selection of truck tool boxes. Having so many options is a good problem to have — you can find the exact model that best meets your needs. When shopping for toolboxes, you'll encounter several different types:
Chest-style and crossover tool boxes are the most popular kinds used in pickup trucks. Both usually feature a single top lid and multiple internal storage compartments. Crossovers are the easiest models to install inside a truck bed: Most come with predrilled holes and may include mounting hardware. For chest-style boxes, you may need separate mounting accessories to ensure they remain stationary inside your bed.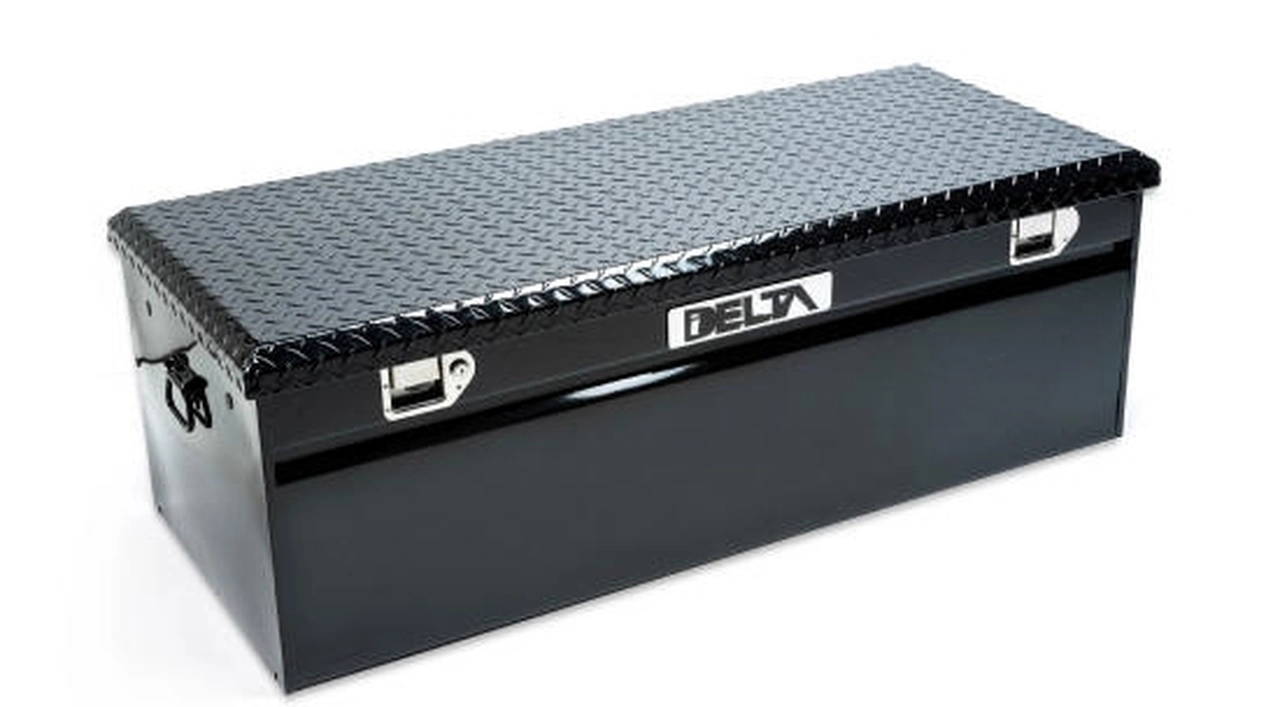 Flatbed, high-side and other styles have specialty applications. As their name implies, flatbed boxes are designed for use on flatbed trucks. High-side boxes mount on a truck bed's sides. Low-side boxes also mount on each truck bed's sides, but they sit deeper inside the bed. Gull-wing toolboxes have a double-lid design that lets you access tools from either the passenger or driver's side of the cabin.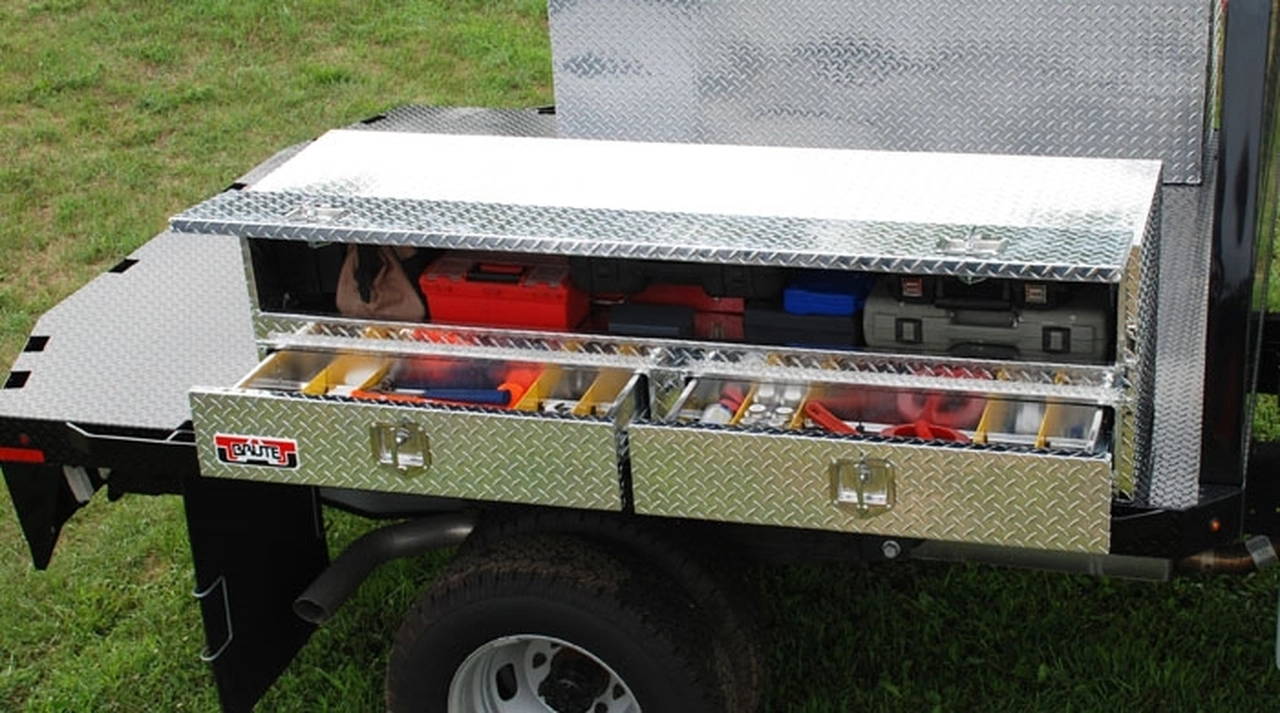 Some tool boxes do double-duty: the fuel tank/tool box and the tonneau cover/tool box combos. These styles solve two problems with a single accessory. The fuel tank/tool box version lets you safely carry fuel and tools. With a tonneau cover/toolbox combo, you don't need a separate bed cover.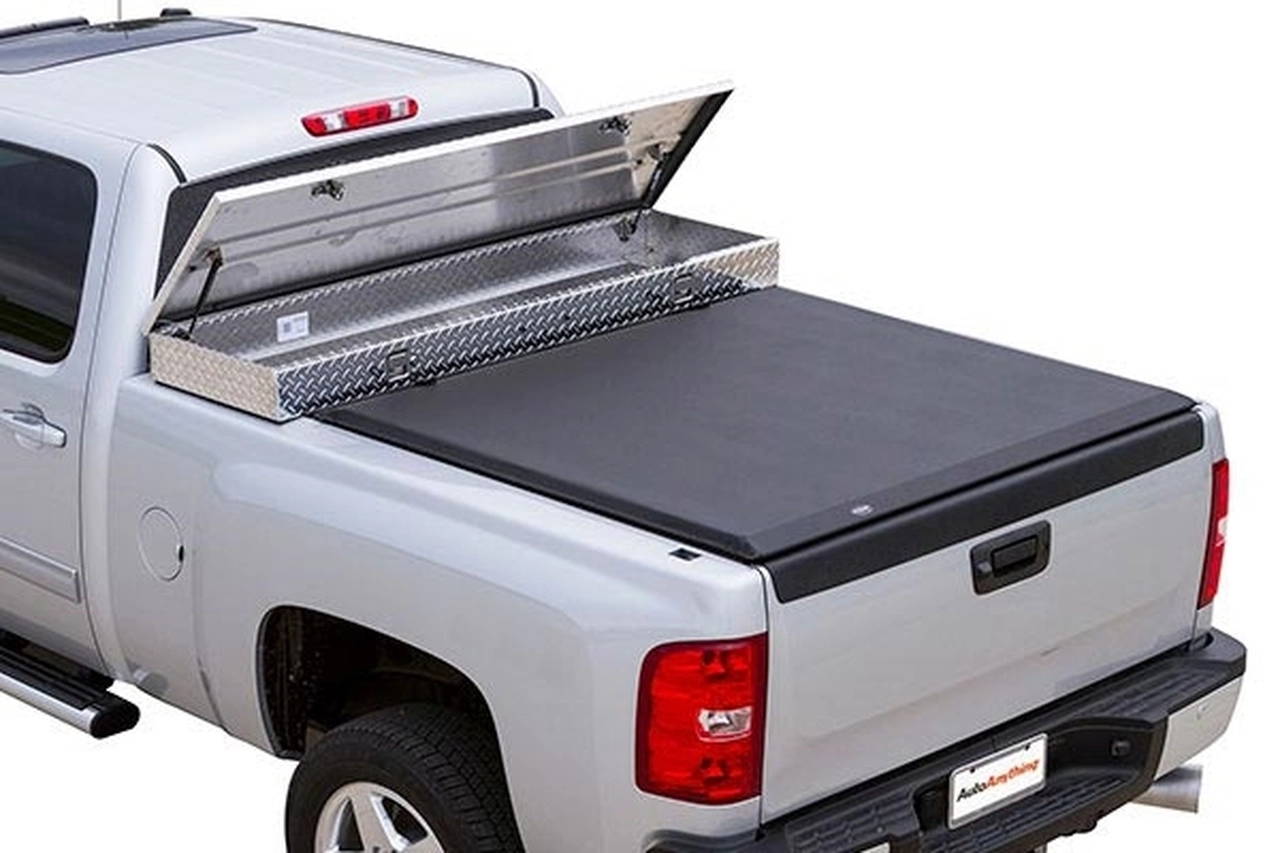 Before you install your toolbox, you'll need to place rubber or foam padding on the truck bed. This prevents your new tool box from scratching the bed's paint finish. If you already have a truck bed liner, you can skip this step.
Steps To Install a Truck Tool Box With Drilling
Many older trucks plus some newer models do not have predrilled holes in their truckbeds. If this is the case, you'll need to drill the holes yourself before placing your tool box. With the right power tools, you can accomplish this installation in 90 minutes or less. Don't forget to get help from a friend if you'll be doing any heavy lifting. Installing your tool box requires just a few steps:
Measure the area in which your tool box will be placed.
With your power drill and a sturdy metal bit, drill four to six holes. Make sure these holes line up with those predrilled in your tool box.
Set the tool box inside the truck bed, aligning its holes with the ones you just drilled.
Secure your tool box with either J-hooks or a set of nuts and bolts. Tighten just enough to strongly hold the box, but avoid overtightening.
Steps To Install a Truck Tool Box Without Drilling
Maybe you aren't thrilled about the prospect of drilling holes to install a truck tool box. Fortunately, you may not have to. Many modern trucks come with predrilled holes in critical spots. If your truck has these holes, it can handle a no-drill tool box install. To locate the pre-drilled holes, check for rubber plugs near the front of the bed. They should be just behind the rear window of your truck's cab. After you've found the predrilled holes and rubber plugs, follow a few simple steps for installation:
Take the rubber plugs out of the holes.
Set the tool box inside the bed, lining its pre-drilled holes up with the holes in your truck bed.
Secure the box into place with J-hooks or regular nuts and bolts.
Tighten the bolts until they're secure. Take care not to tighten them too much.
Benefits of Your Tool Box
The most obvious benefit of tool boxes is fast access to your tools. However, they also keep those tools securely locked away. Loose tools inside an open truck bed attract thieves like a giant neon "come rip me off" sign. With a locking tool box, you reduce your chances of having tools stolen. You also don't misplace important tools when you need them most.
Truck tool boxes are indispensable pieces of gear for any truck owner. It doesn't take a rocket scientist to pick one that meets your needs. With either drill or no-drill installation, you can mount a tool box onto your truck in a few easy steps. Leonard Accessories offers truck parts plus world-class expertise to help you equip your rig. Shop our extensive inventory now.