The Best Truck Accessories for Your Off-Road Adventure
Pickup trucks have been taken off-road since they were first released. They're powerful, rugged, and tall, making them perfect for traversing harsh terrain. Over the years, off-road capabilities have improved to include special shocks, higher body heights, extra lights, and more. Whatever issues haven't been solved by truck manufacturers are covered by off-road accessories! At Leonard Truck Accessories, we stock all kinds of off-road equipment that will protect your truck and enhance its off-road performance. Here are some of our must-have products!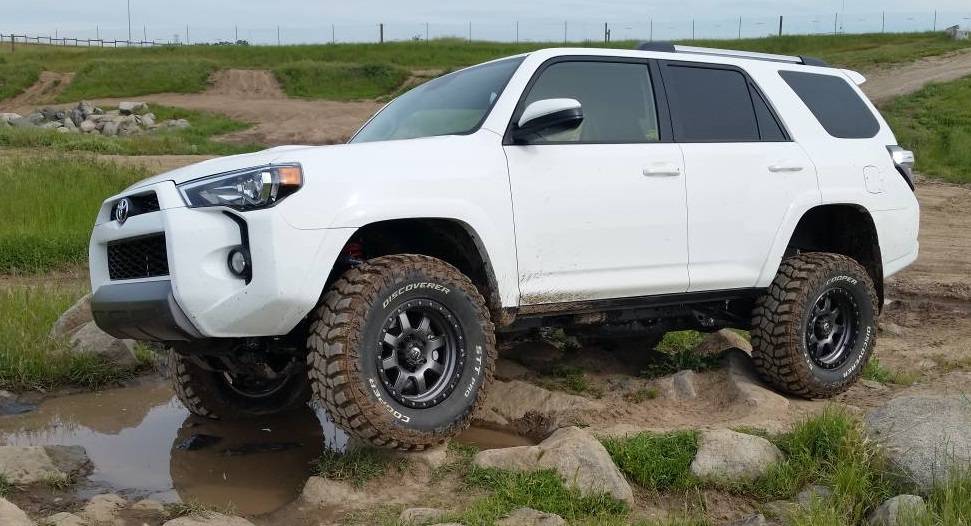 If you're going to take things off-road, you need the right wheels. Some factory wheels aren't able to handle the rough terrain of the trails, and they can crack, chip, or split. The last thing you need is a broken wheel when you're in the middle of nowhere. To avoid that, we suggest you pick up some awesome wheels from Fuel Offroad. These wheels look bada** and are literally designed for off-road adventuring. They're made of single cast aluminum so they're lightweight but super strong. No matter how many adventures you take, Fuel Offroad Wheels will not let you down. You can ride over rocky hills, deep sand, and everything in between. Even the powder coating is built to withstand rocks and debris. There are a ton of styles and colors to choose from so your truck will look cooler than ever. Check them out here: Fuel Offroad Wheels
Next up we have the Westin Outlaw Front Off-Road Bumper. If you're going to be driving through weeds, bushes, and other types of natural obstacles, you want to protect the front of your pickup. That's where the Westing Outlaw Bumper comes in. This front bumper is made of a 2" diameter 14-gauge steel. Everything you need to mount your new bumper comes included with the kit. There's an integrated bolt-on LED light mount that can hold up to two single or one double row 30" LED bar. The Westin Outlaw Bumper will take the brunt of anything you have to push through, protecting the paint on the front of your truck and avoiding anything getting caught in the grille. Give your truck an added layer of protection and get yourself one of these bumpers!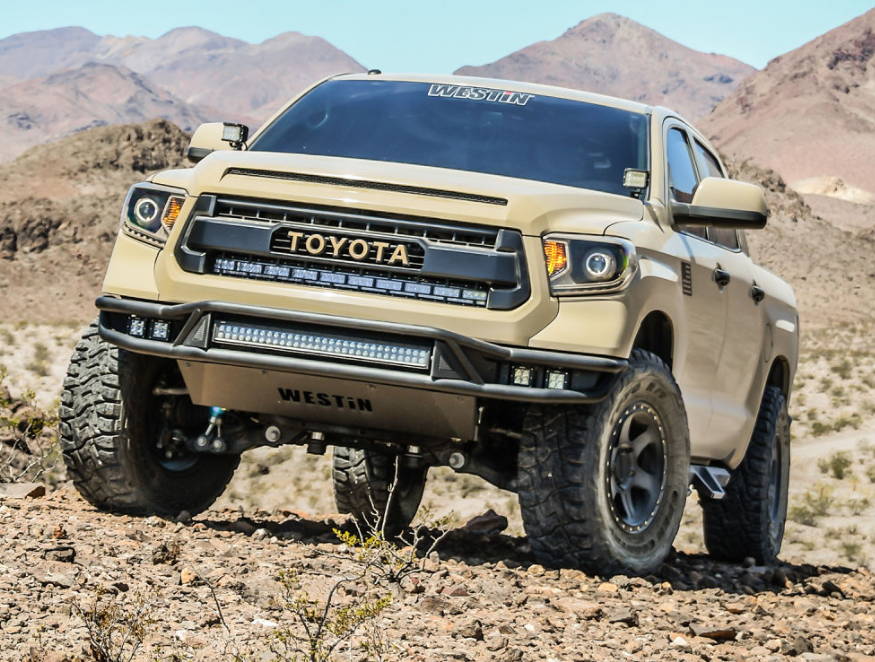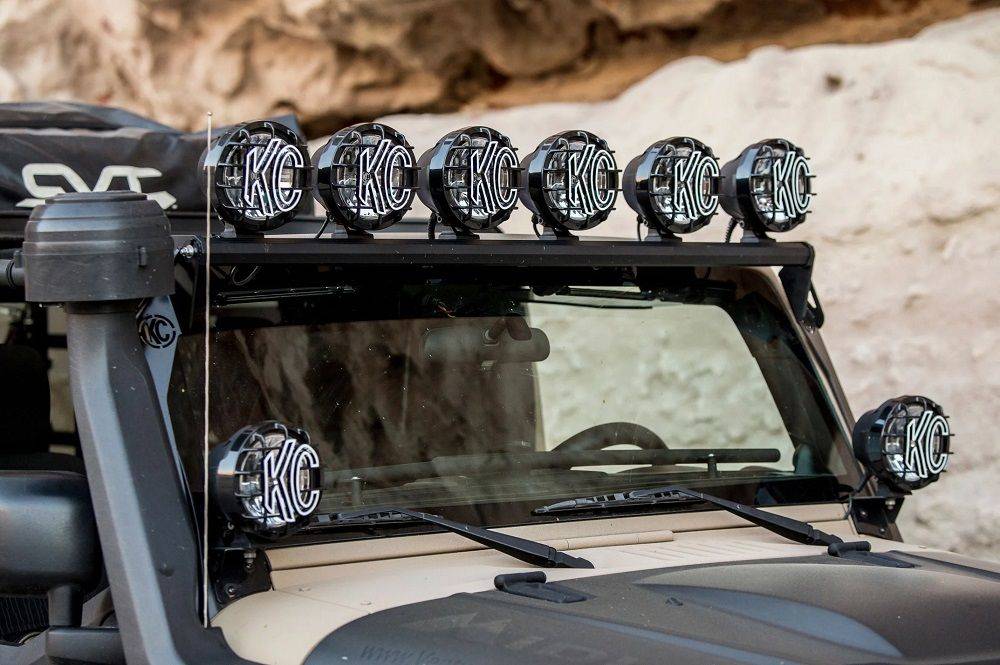 Do you take to the trails after dark? Or maybe you just can't bear to leave until the sun sets. Whatever the case, you need some off-road lights. These are designed to provide long-range or wide light. Different beam patterns are available based on the type of offroading you do and what you're hoping to gain with the extra lights. Just about all off-road lights are shatter/crack-proof and have super bright bulbs. Adding a few off-road lights to your truck makes night time exploring safer for everyone. You'll see any hazards well before you get to them, and people and animals will be able to see you coming and avoid getting in your way. It's a win-win situation in our opinion. Not to mention, extra lights look cool as hell on pickups. They show that you mean business with your truck and aren't afraid to leave the streets for some off-road driving. All of the KC HiLiTES Off-Road lights are phenomenal. There are different shapes, sizes, and styles to choose from to match your aesthetic. Check them out! You won't regret it: KC HiLites Off-Road Lights
Last but certainly not least, we have the Husky Liner Wheel Well Guards. These wheel well guards protect your truck's wheel well from rocks, sticks, mud, and more! They're a must-have for offroading so that you don't have to spend hours cleaning crap out of your wheel wells. As with all Husky Liner products, these guards are made with highly durable, impact-resistant material. Installation is fast and simple. Anyone can install these wheel well guards at home. In just a few minutes, you'll have a well-protected truck and be ready to take on nature once again. After your adventure, you can hose the guards off and feel confident that nothing got lodged in your wheel well. These are an overlooked off-road accessory, but they can save you a lot of time and money in the long run. Your wheel wells are going to take the brunt of the abuse with rocks and pebbles, so it makes sense to protect them.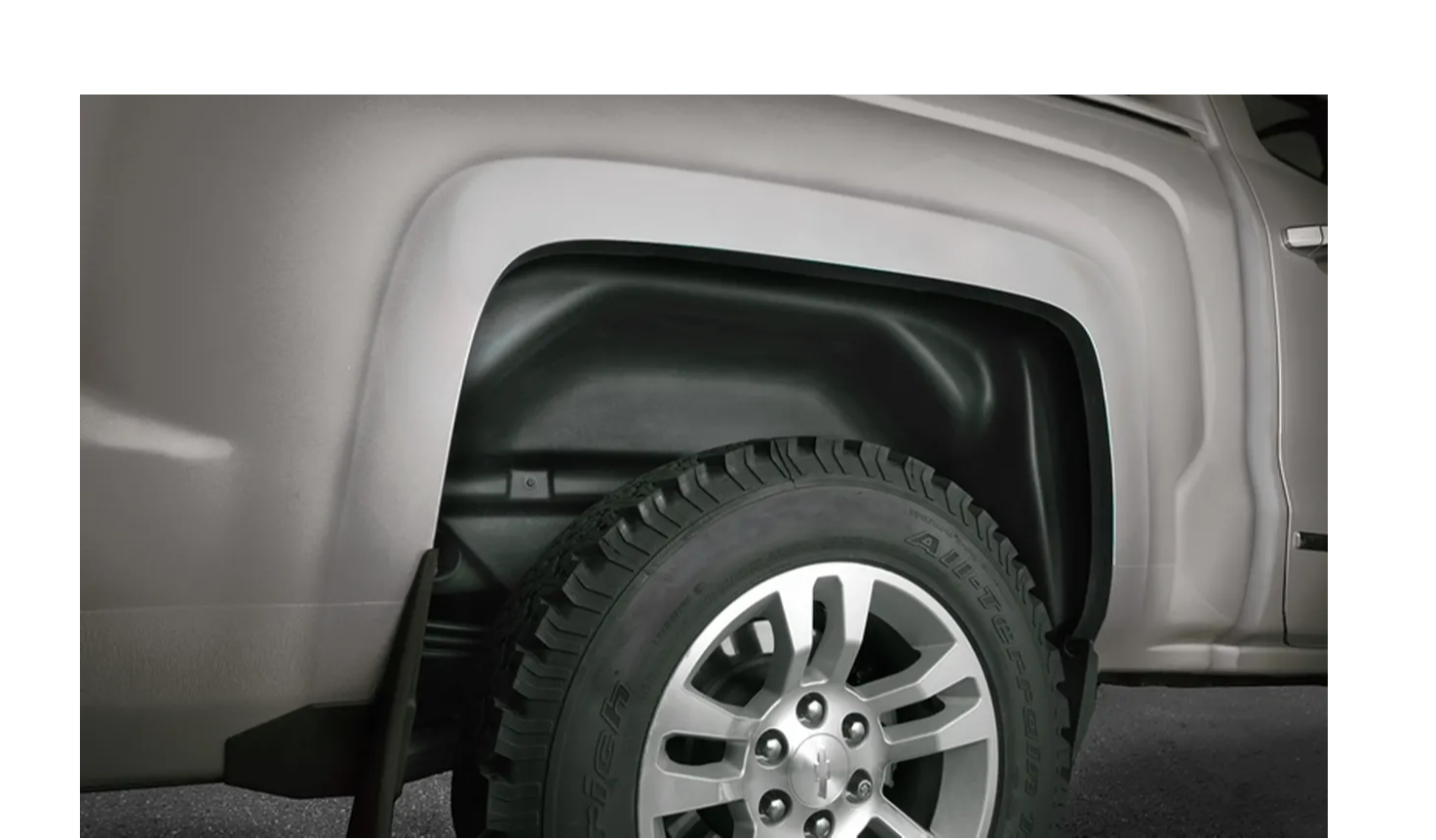 Do you already own any of these off-road accessories? If not, we suggest you invest in at least a few of them. Spend a little money now to save a lot of money later! These products are all designed to protect you and your truck and make offroading safer. We have plenty of other off-road products as well including nerf bars, truck tents, mud flaps, and more. Check out our entire selection at leonardaccessories.com.