Have we mentioned we have awesome truck wheels? Because we totally do. We've written a few articles involving Fuel Offroad and XD Series, but now it's another brand's time to shine. Let's explore some of our favorite models from the Mayhem wheel collection at Leonard Truck Accessories!
Okay seriously?! Are these not one of the coolest wheels you've ever seen? Just look at that color! The unique bronzy gold accent color is unlike any other wheel brand's. Not to mention the awesome design work. These wheels look as tough as they are. Mayhem wheels can withstand even the toughest off-road trip you take because they're made of durable, lightweight aluminum. If you want your truck to be the coolest on the block, get yourself a set of Bronze Flat Iron Wheels. You'll get free ground shipping on these awesome wheels so why wait any longer? Check them out here: Mayhem Bronze Flat Iron Wheels
Does Mayhem have a team of artists making these wheels? I mean, come on! How gorgeous are these babies? You've seen plenty of chrome wheels before but none quite like this. The Chrome Missile Wheels are so shiny they're hard to see in the picture! That's when you know they're done right. Like the Bronze Flat Iron Wheels, the Chrome Missile wheels are made from super-strong aluminum. They come with a limited lifetime structural warranty and a 1-year finish warranty. Mayhem wheels are known for their durability and artistry, and these suckers are certainly no exception! Ride with true style with these wheels on your pickup and watch the heads turn everywhere you go. Order yours here: Mayhem Chrome Missile Wheels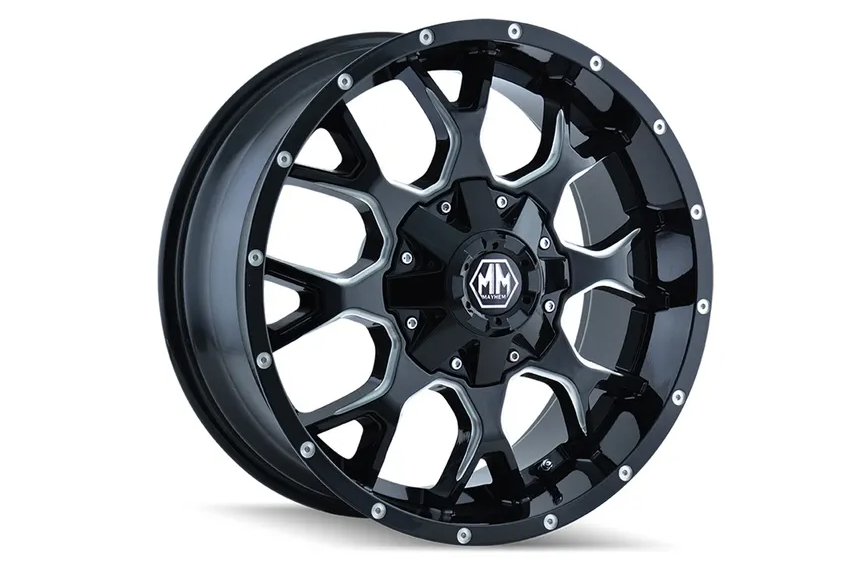 At first glance, these bad boys may look like your typical gloss black wheels. Think again! On closer inspection, the Black and Blue Warrior Wheels are, in fact, black and blue. The blue accents are positioned slightly on the side of the interior design, so you may miss it at first, especially in darker lighting conditions. When these wheels hit the light, they'll shine a bright electric blue from both the design and the rivets surrounding the wheel. We think these are so cool and we'd all love a set for our own pickups. Like other Mayhem products, the Black and Blue Warrior Wheels are designed for durability and they can easily handle off-road excursions. You also receive free ground shipping and the same warranty we already mentioned. Shop here: Mayhem Gloss Black and Blue Warrior Wheels
The last wheel on the list for today is the Chrome Combat Wheel. We wanted to include another chrome wheel because they're so popular. We picked the Chrome Combat Wheels because they look like a bunch of wrenches and we think that's pretty cool. As with all Mayhem wheels, you'll get the limited lifetime warranty, long-lasting durability, and mad street cred. These wheels look super tough and they'll look amazing on any make and model. Get your own set here: Mayhem Chrome Combat Wheels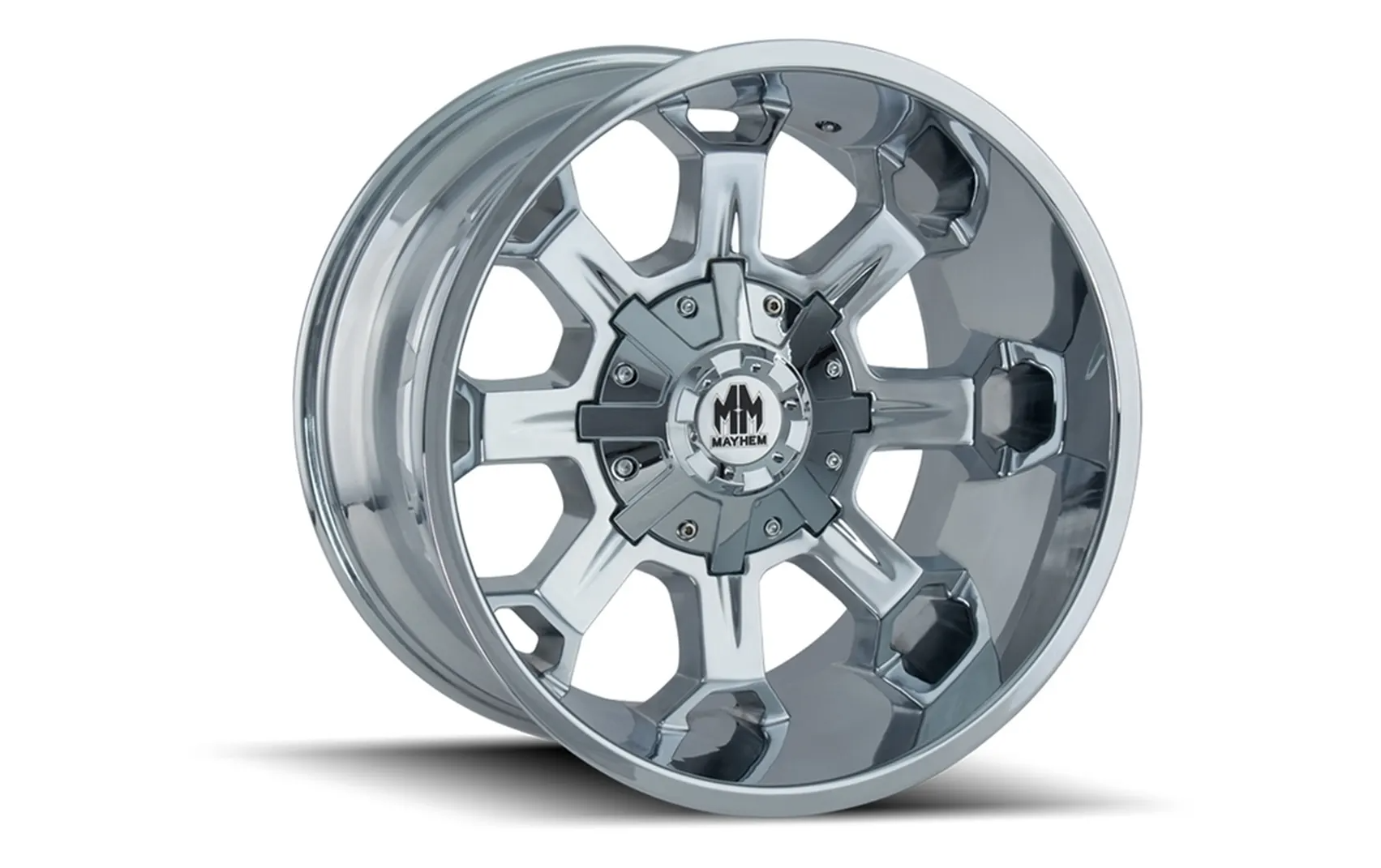 There you go! Some of our top picks from the Mayhem Wheel collection. Now, we aren't saying the other wheels are not as cool because that would be a bunch of bs. Unfortunately, we can only talk about so many products before the blog becomes too long. So, for now, we'll leave it at these four. You can explore the other models on our website: Wheels for your pickup truck. Deck out your truck and cause some Mayhem!