How to Pick Between Truck Covers USA and Retrax Tonneau Covers
Here at Leonard Truck Accessories we like to make it as easy as possible to find the products that are best for your truck and lifestyle. For this month's head-to-head battle, we'll be looking at two of our most popular retractable tonneau cover brands; Truck Covers USA and Retrax. Which gives you the best bang for your buck? Let's take a closer look, shall we?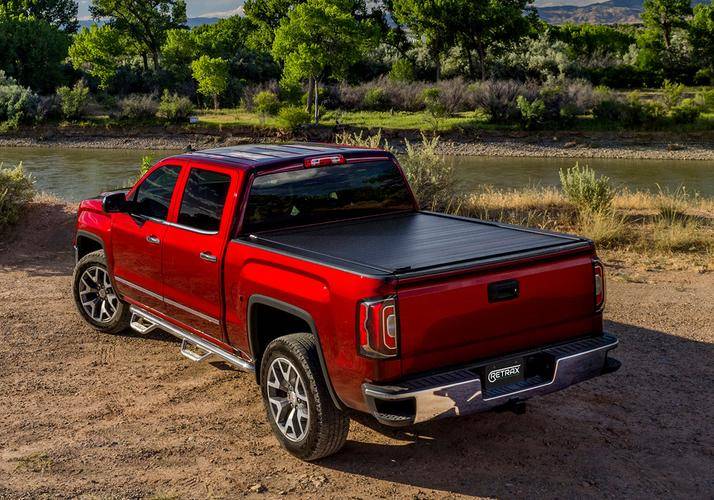 We know that price plays a huge part in making any type of investment. As with most things in life, it's important to remember that "you get what you pay for." Both Truck Covers USA and Retrax are reasonably priced for the superior products you get. Looking to save money? You can pick up a RetraxONE for $1,178.95, or a Truck Covers USA American Roll Cover for $1,799.00. If you're looking for luxury, you can opt for the higher-end models. For Retrax, that's the Powertrax PRO XR at $2,699.00. For $2,999.00, you can get the American Work Cover Retractable Tonneau/Toolbox Combo from Truck Covers USA. Of course, there are also models in the middle of the price ranges so you can find a retractable tonneau cover that fits your budget.
Lowest Price: Retrax (RetraxONE)
Highest Price: Truck Covers USA (American Work Cover Retractable Tonneau/Toolbox Combo)
Number of Models We Carry
Everyone wants options, right? Leonard Truck Accessories always strives to provide a wide selection of products for you to choose from. This category has a clear winner this month. We carry four different retractable tonneau covers by Truck Covers USA, and a whopping 12 from Retrax! Of course, it's also important to consider quality over quantity, so we'll be getting to that in the next section. However, if you want more options to choose from, Retrax is the brand for you.
Most Models Available: Retrax (12!)
Tonneau Covers Overall Quality and Ratings
The Leonard Accessories team did our research so that you don't have to. We scoured the internet to find articles listing the best retractable tonneau covers to see if either of our two brands made the cut more than the other. We also looked for reviews from customers, as well as at our own sales numbers. Retrax retractable tonneau covers were featured in lists far more than Truck Covers USA. While this is telling of brand perception, we also want to put things in perspective. Truck Covers USA is a great brand (we wouldn't carry it if it wasn't), but it is much smaller and lesser-known than Retrax and other brands including Bak Industries, Roll-n-Lock, and Pace Edwards who were also prominently featured on the lists we found. One of the reasons Truck Covers USA is not as popular is that they have a much more limited product line. This prevents them from getting recognition when compared to much larger companies. But, we digress. Though Truck Covers USA was not mentioned in lists, they are well-reviewed. Customers commend them for their strength and longevity as well as their ease of use. Both Truck Covers USA and Retrax covers have 4 stars or more on just about every site you visit. Retrax is a cult classic that truck owners trust unconditionally. Because of the strong brand association, the larger selection, and the positive reviews, we personally see more sales of Retrax covers. By no means does this mean that Truck Covers USA isn't a great brand, but this is a competition, so we want to be transparent.
Most Featured on "Best Of" Lists: Retrax
Best Quality According to Reviews: Retrax
Unique Features
Before you make your decision, here's one last category for you to consider. What are the unique features that each brand has to offer? Check them out!
One-hand operation, electric (powered) options, no drilling required, polycarbonate, plastic and aluminum construction, canister is flush with the cover, sealed ball-bearing rollers, key-lockable in any position, UV protection, electric versions magnetically lock in any position, supports 200 to 500lbs, available with trax rails for additional cargo capacity, some come with an LED cargo light, scratch-resistant finish.
The only brand with a tonneau/toolbox combo, 4-way drainage system, smallest but toughest canister, weather-resistant, keyless entry, locks every 12 inches, heavy-duty aluminum clamps, double-walled aluminum construction, supports 500+ lbs, tension-driven retraction, molded rubber gasket to keep out dust and water, powder coat finish.
| | | |
| --- | --- | --- |
| | Retrax | Truck Covers USA |
| | | |
| | | |
| | | |
| | | |
| | | |
| | | |
| | | |
| | | Tonneau Cover Toolbox Combo |