Ultimate Buying Guide for JOBOX Tool Boxes
JOBOX tool boxes are a well-known brand of rugged truck boxes designed to hold up to extreme weathering and demanding performance needs. These utilitarian JOBOX truck tool boxes are secure and rugged and they serve as a convenient storage tool. The trick is to choose the right box for your needs.
Learn about the different box materials and styles, and determine which is best for you.
Which JOBOX Tool Boxes Are Worth It?
JOBOX tool boxes are known for being durable and crafted to work on trucks and vans. There are dozens of different box types to choose from, but only a few are truly worth adding to your vehicle. We prefer the crossover truck box, the side mount storage box, the topside truck box, or the platform-style toolbox with drawers. Each works well and offers different benefits.
Choosing a Material
There are two major material options that most JOBOX tool box options are built from. The first is aluminum and the second is steel or stainless steel. Each material works well for a truck toolbox, but you'll have to decide what you value more when choosing a box option for your needs.
An aluminum box is best when you want to minimize weight and corrosion. Aluminum resists corrosion very well, even when you're working with damp equipment regularly, and aluminum is lightweight. It's important to note that aluminum is more expensive than steel, and it takes damage more easily so it must be treated with care.
Steel or stainless steel is the better option when you want to minimize cost while getting a box that doesn't require much maintenance. JOBOX truck toolboxes made from steel or stainless steel can withstand regular scrapes and impacts without failing. They're also more difficult to break into. These boxes are very heavy, and you won't want to move them around. Coated steel boxes, or even stainless steel boxes corrode more easily than aluminum, and they aren't the best option when working with wet equipment regularly, or when dealing with corrosive chemicals like bleach.
Security & Waterproofing with JOBOX Tool Boxes
Each of the well-made truck boxes from JOBOX are sealed using foam insulation or a gasket-sealed lid. This keeps water out and makes them weather-resistant. The boxes are also fitted with locking drawers and lids. Some boxes feature a lock mount where you can add your own lock, and others have built-in locks with keys you can use to safeguard your tools.
When security is the most important thing choose a steel box that bolts to your truck or van and that has external locks you can add. When weatherproofing is the most important, look at aluminum boxes that are more corrosion-resistant overall.
Our JOBOX Top Picks
There are four major JOBOX truck toolbox styles you should consider adding to your pickup. Each of these boxes is designed to mount in your pickup for long-term tool and equipment storage. The boxes are simple to use once mounted, but it's important to consider all the options to help you find the box that's right for your needs.
JOBOX Side Mount Storage
The side mount storage boxes from JOBOX attach to the left or right of the truck bed to offer convenient access to your tools. These boxes are smaller than crossover boxes and can be made from aluminum or steel. The boxes sit down in the truck bed using the bed for support while featuring a raised lip that runs along the top of the truck bed rail for added storage space and easy access. These boxes open on top and feature struts for easy opening and closing.
JOBOX Topside Truck Box
Topside truck toolboxes are impressive devices with cabinet-style storage compartments that fold out and down. These boxes mount on top of your truck rails to provide convenient access to your tools at the side of your pickup. These boxes are ideal for storing mid-sized items, and for keeping your truck bed open for additional storage.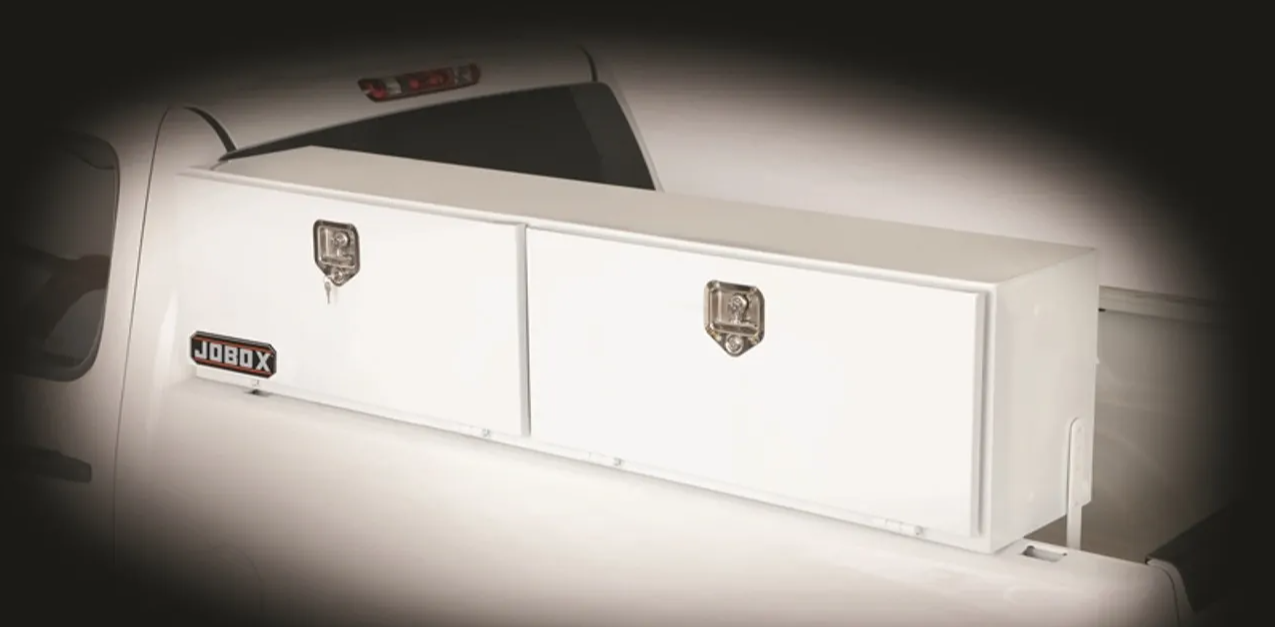 JOBOX Crossover Truck Box
The JOBOX Crossover-style truck box is a lightweight aluminum box with a top-mounted access hatch that's sealed against weathering. These boxes stretch from one side of a truck bed to the other, and their outside edges mount on the truck bed rails for a secure installation. These boxes feature gas struts under the top-mounted lid for comfortable opening and closing.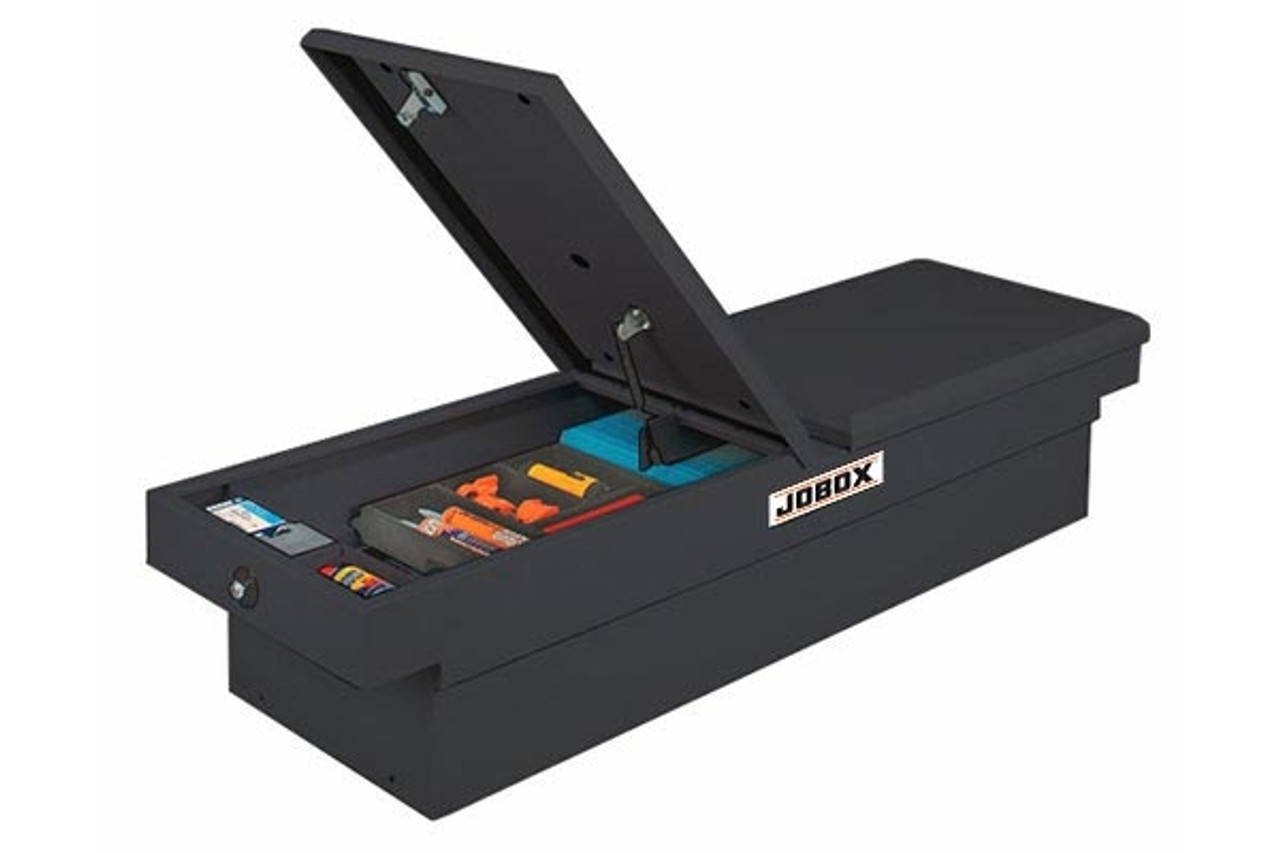 JOBOX Tool Box with Drawers
The JOBOX drawer tool box storage systems are rugged draw-filled platforms that install in the bed of your truck, or at the rear of your van. These simple platform boxes can be mounted underneath a crossover truck box, or used on their own with equipment stacked on top. The boxes are made from aluminum, feature individually-locking drawers, and make it easy to organize all your small-to-mid-sized tools for a range of jobs.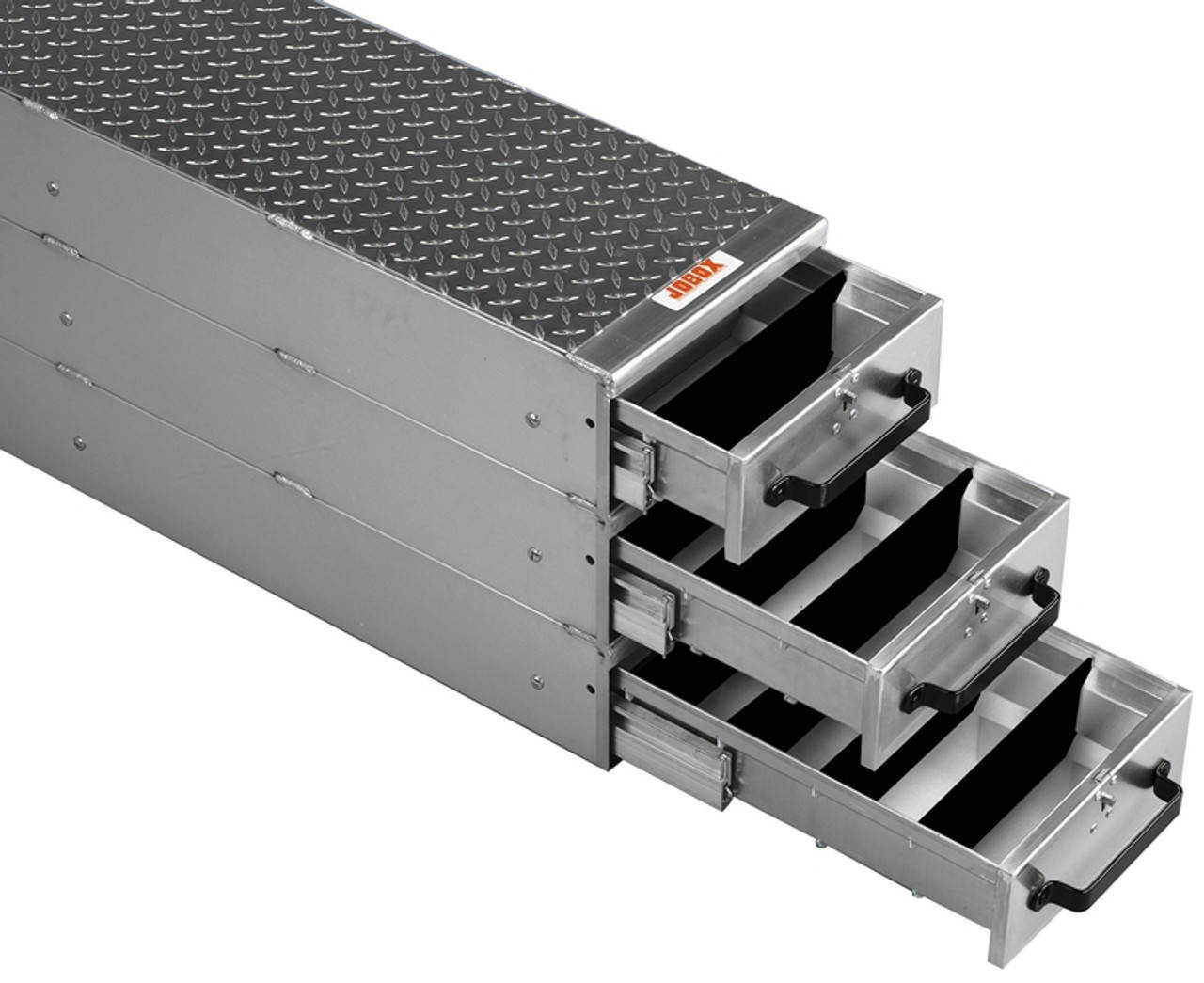 JOBOX tool boxes give you the space to haul the tools you really need for every job. Now that you know which box types are worth considering, you can choose the box style that meets your needs best.
When you want to equip your work truck or van with the most durable and usable accessories, Leonard Truck Accessories offers well-made upgrades to prepare your vehicle for every job.