How To Pick the Right Gun Safe for Your Vehicle
Are you looking for a safe and secure way to store your gun in your vehicle but still have easy access to it? For hunting or personal protection we have plenty of options available for storage, lock boxes and safes. Depending on your needs there are many different ways to store and transport firearms in your vehicle. Do you want to store or transport your firearms inside the cab of your vehicle? If so your best option would be to go with a console gun safe, under seat gun storage, or an overhead gun rack. Do you want to keep your guns in the back of your vehicle? If so we have a wide variety of options such as Decked truck gun storage, TruckVault drawer systems, and TruckVault day boxes. Below we will highlight each product and you can decide whats best for your needs.
Console Vaults vehicle gun safes are designed with features found in a bank vault. The console vault provides high security but also allows you quick and easy access.
Easy do-it-yourself installation with no vehicle modification necessary with a nice fit and finish.
Bank security features such as 12 gauge steal and triple guard locking system, reinforced hinges and 3 point locking system that resists prying and drill resistant locks.
Meets automotive stringent quality standards
Designed to fit your vehicle like OEM
Lock types available: key, three digit, or 4 digit (see below for more details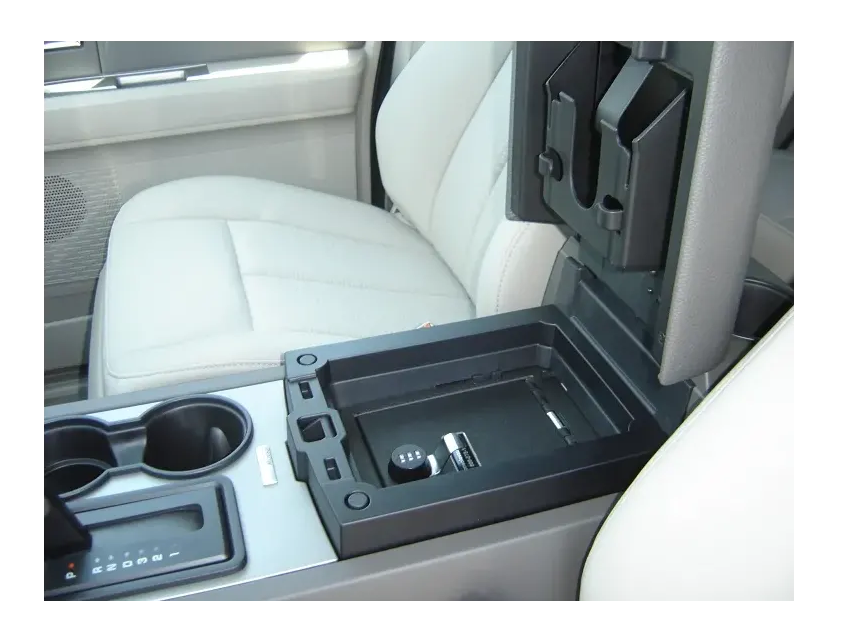 Console Vault Types and Installation Locations
Depending on what seats are in your vehicle will determine which console vault is best for you. The combinations are as follow:


Fold Down Armrest Console Vault

Du-Ha storage systems are rotomodeled polyurethane containers that fasten down to keep them safe and secure under the seat of your truck. Your options for truck gun storage are the under seat storage box or the under seat lock box.
Stores guns and valuables under the back seat of your truck
Plenty of room for additional gear
Vehicle specific so fit and finish is like OEM
Gun rack dividers hold your guns upright which is a legal gun case in most states
Lockable with integrated keyed lock (Lock Box version only)
Easy installation with fasteners (included); installs in minutes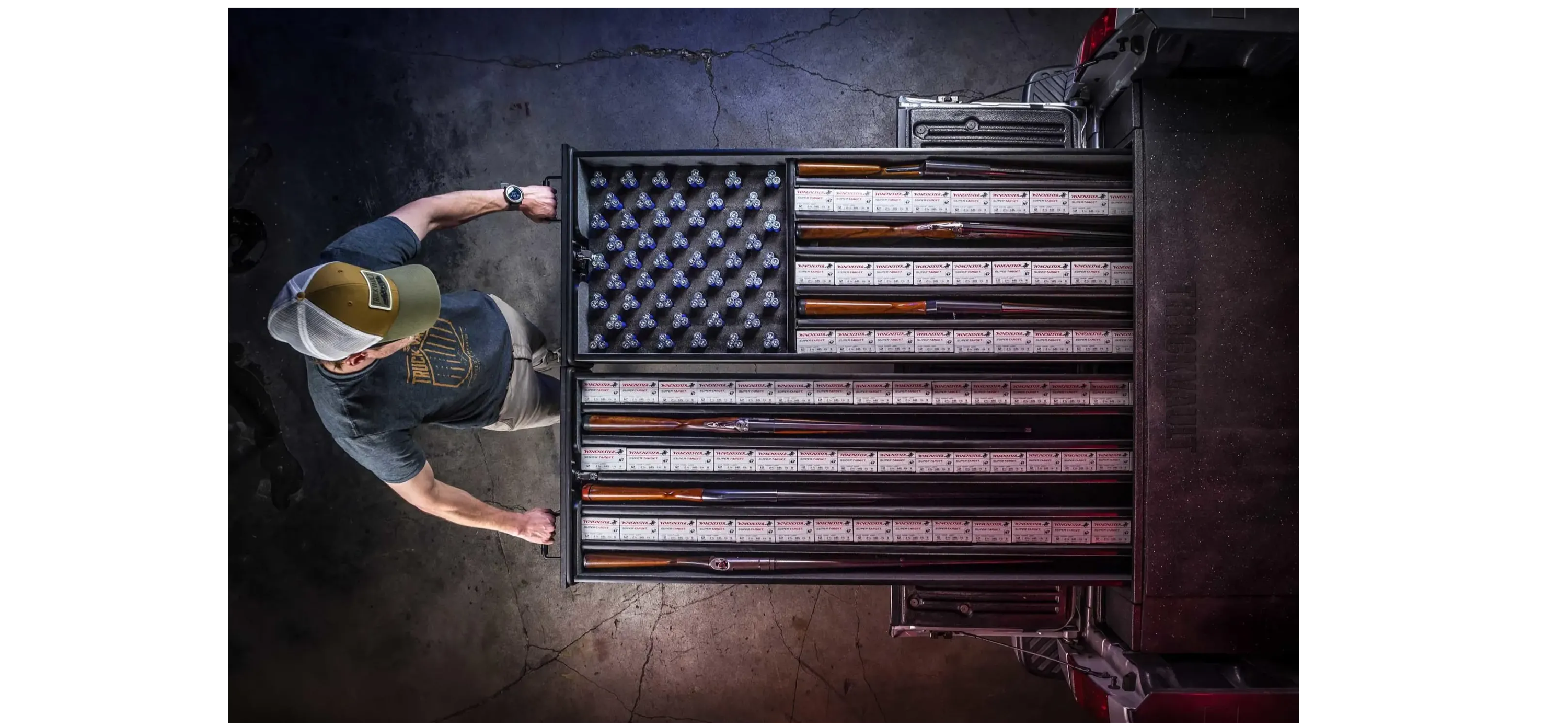 Comes in 3 designs (Standard Series One Drawer, Standard Series Double Drawer, and Standard Series Offset Drawer)
Strong American Craftsmanship
5-Button Simplex Combination Lock(s) with key over-ride
Low-Profile Spring-loaded handles
Your Choice of Black Composite or Dark Oak Drawer Fronts
Carpeted Dividers: Two Long and Two Short or Three Diagonal
Interior Drawer Carpeting: Your Choice of Four Colors
Exterior Vault Carpeting: Your Choice of Four Colors
Exclusive Roller & Caster Counterweight System
Lifetime Warranty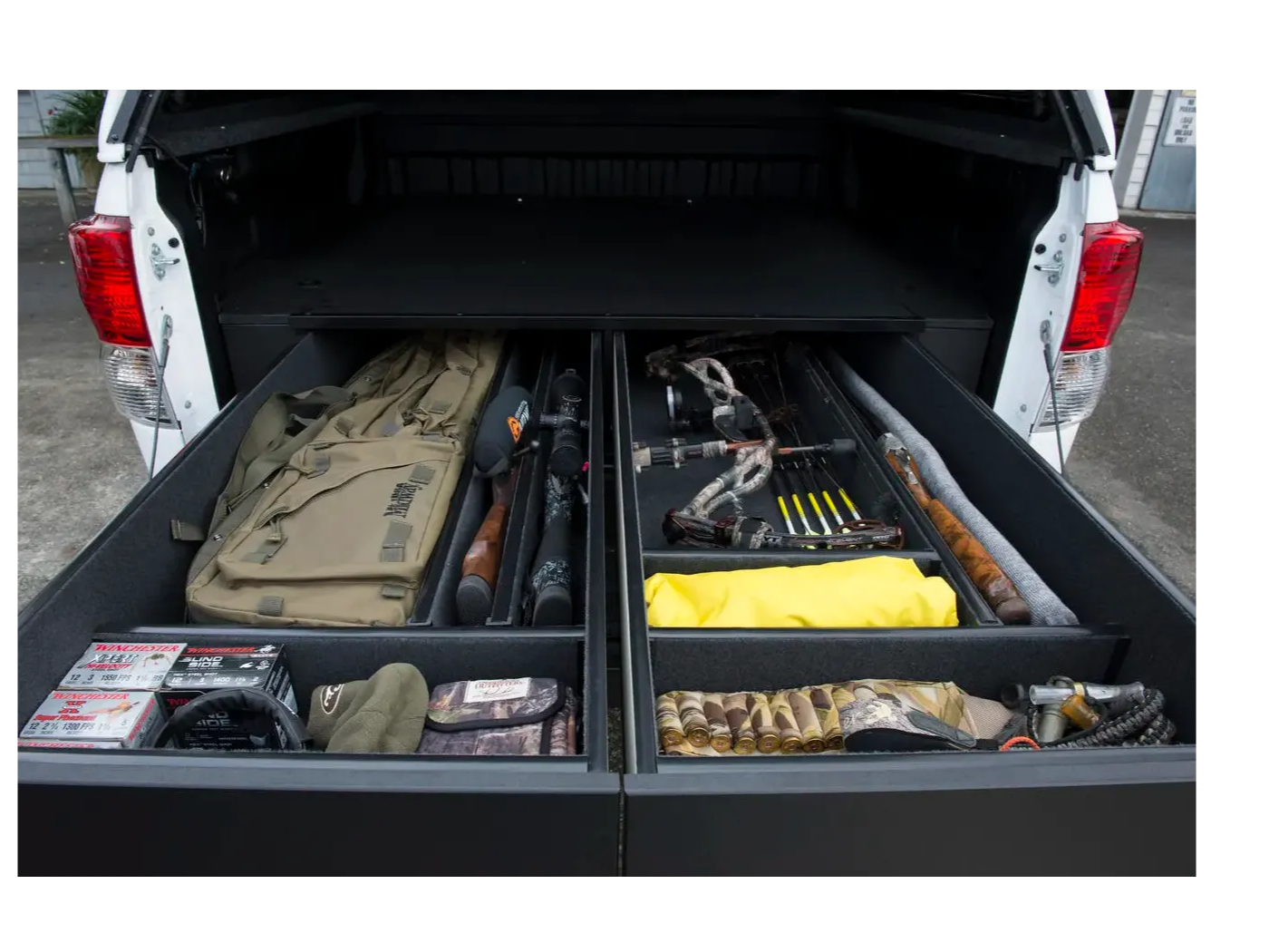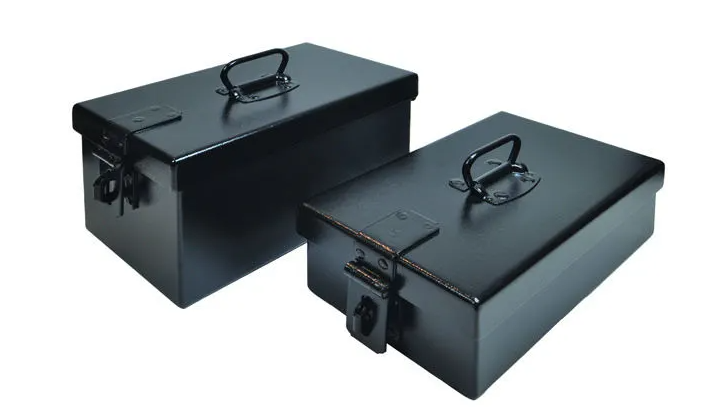 Carry ammo and small firearms to and from the range and store them easily in your vehicle or truck vault storage system
Class III Day Boxes that meet or exceed all ATF standard for temporary supervised storage of explosives and detonators
The Standard Height Day Box fits in any TruckVault and the Magnum Height Day Box fits in our Magnum Height TruckVault drawers

Standard Height - Inside Dimensions: 4"H x 12 3/4"L x 6 3/4"W

Magnum Height - Inside Dimensions: 6 7/8"H x 12 3/4"L x 6 3/4"W
For tactical or recreational truck gun storage look no further than Decked truck storage. This system is very optimized for organization and ease of use, so when your ready your guns, ammo and accessories will be too. Built strong the Decked storage system allows you to haul your cargo on top so you still get to use your truck bed. For more great products from Decked beside gun storage be sure to check them all out here: Decked Storage Products
Gear is stored safely out of sight with secure drawer locks
Durable weatherproof drawers keep your guns and ammo dry and safe from any weather
2000LB payload so you can haul your ATV or large game animal on top
Secure all items on top of the storage unit with CoreTrax tie downs that attach to the steel from of the Decked uni
Having access to your rifle has never been easier with the Center-Lok Gun Rack from Great Day Inc. This rack fits all Full Size Crew Cab Pickup Trucks with center drop posts. The Center-Lok Gun Rack positions guns snug against the headliner of the truck and for the most part out of site, providing abundant headroom for the driver and passengers. The guns are held securely and are protected by cushioned, moldable gun clips with Velcro straps and adjust independently to different size guns. Choose between the CL1501 Model that holds 1 gun, or the CL1500 model which is the 2 gun model. Great Day offers so many useful products for outdoors men and women and for your convenience can all be found here: Great Day Inc.
There are many ways to store and transport your firearms safely and securely in your vehicle and we hope that we've helped you understand your options a little better now. For more on vehicle gun storage check out all of our available Car and Truck Gun Safes and Storage.

Please be cautious when transporting, using, or storing firearms. It is imperative that we keep all guns and weapons out of reach of children and teach them what to do when they see a gun and as they grow be more educated on the topic in its entirety. For more on gun safety for yourself and children of all ages check out The Firearm Trade Associations Gun Safety Page and Project Child Safe.