Vent Visor Guide: How to Pick the Best Vent Visor for Your Vehicle
Vent visors, also known as window deflectors and rain guards, were designed to serve several functions. Firstly, they allow fresh air to circulate through windows while keeping out rain, snow, or sleet. They also add some protection from the sun, preventing the driver from having to struggle to see. Quite frankly, vent visors look cool, so we count that as another use. After all, what's a truck accessory if it doesn't make your truck look awesome? Leonard Truck Accessories carries a few brands of vent visors, so we thought we'd put some head to head. We've decided to compare the two bigwigs of the industry, Stampede and Auto Ventshade.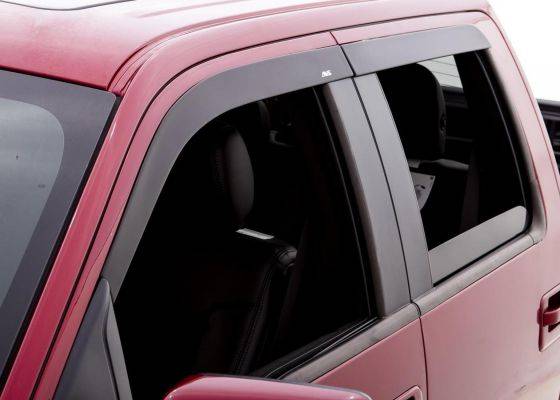 Vent Visors Prices
We know that price is one of the first things buyers look at before making a purchase. So, which vent visors are more expensive? Auto Ventshade has the highest-priced model carried at Leonard Truck Accessories. These Accent Visors are $179.95 for a set. Stampede's highest priced window deflectors are $148.95 - $150.95. Between the top product of each brand sits three other models from Auto Ventshield. When you look at the low end of the spectrum, Stampede offers Tape-On Sidewind deflectors for $51.95 - $121.95 and Auto Ventshade offers Rear Deflectors for $51.95 - $52.95. It can be a bit challenging to compare these brands based solely on price, because each brand offers a range of defectors that are meant for different parts of the truck. Generally speaking, Auto Ventshade has products for any budget and Stampede has more products in the mid-range level of pricing. Both are very respectable brands and we promise you'll be happy with rain guards from either.
Highest Price: Auto Ventshade
Lowest Price: Tie
Models
Leonard Truck Accessories carries 20 models from Auto Ventshade, and 9 from Stampede. Auto Ventshade has more variation in their models, and they have some that are not your traditional vent visor. It's also important to note that Auto Ventshade sells vent visors in two and four packs, so some of the listings may be the same with the exception of the number of items. That being said, Auto Ventshade does produce more models, so if you're looking for a more diverse selection, they're the brand for you.
Most Models: Auto Ventshade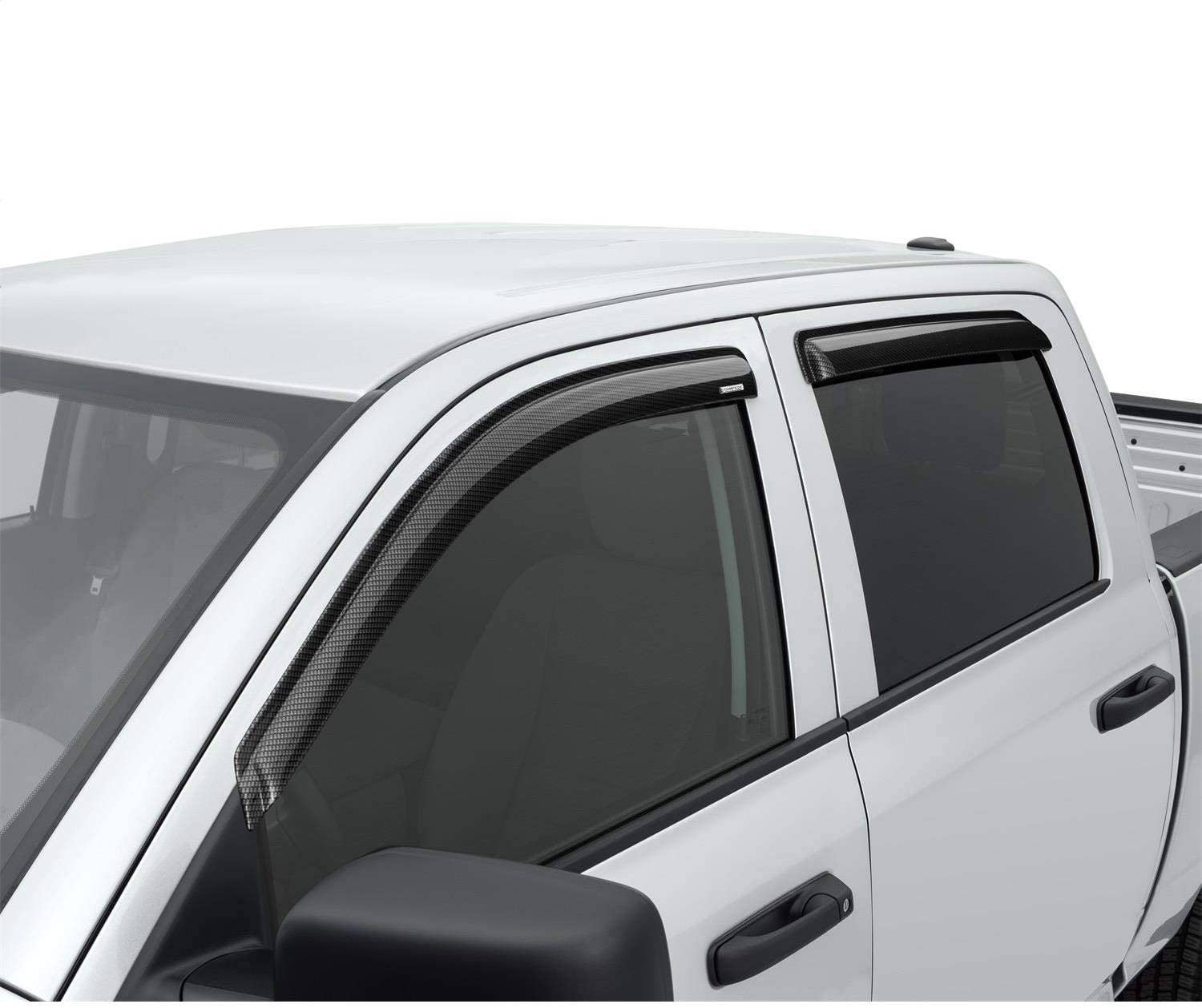 Auto Vent Visor Quality
Purchasing high-quality vent visors will help you avoid needing to replace them. The better the quality, the longer they last and the more they can handle. For both Stampede and Auto Ventshade, just about all of their window deflectors are made from modified acrylic. This is the best material to use for rain guards because it is durable, scratch-resistant, and lightweight. Some of the less expensive vent visors will be made of plastic, which is more flimsy and much more likely to shatter or crack. To be truthful, we would not carry either of these brands if we did not feel that they were the best possible quality. Leonard Truck Accessories takes pride in providing customers with the cream of the crop, and we weren't about to drop the ball with vent visors. According to other blogs and best-of lists, Auto Ventshade is seen as superior in quality due to the longevity of the products and the staying power they have (more on that in a bit). That being said, Stampede doesn't make bad products; not by a long shot. Auto Ventshades is a much more well-known brand, and therefore will be a more obvious choice for people creating "best-of" lists. We have had customers purchase products from both brands with absolutely no complaints, so take the lists as you will.
Best Quality (According to Online Lists): Auto Ventshade
Method of Attachment
There are two ways that vent visors can be installed onto your truck. The first is the tap-on method. Tap-on vent visors attach to your pickup with, you guessed it, adhesive. When your tap-on window deflectors arrive, they'll already have the adhesive on them, so you just need to peel off the backing and stick them on. Tape-on vent visors are popular because they are so easy to install, and they have a better track record of keeping water out since they're mounter on the exterior of the truck. Beware though, removing old adhesive can be messy and damaging, so keep that in mind when you decide with type to purchase. Your other option is called an in-channel vent visor. These fit very snuggly in the channel of the window. They provide a sleeker look and can be removed without damage. The cons to these bad boys is that installation takes some elbow grease (but not too much or they can break!), and they've been known to loosen and rattle around after a year or two. Almost anywhere you look, Stampede is more known for their tape-on vent visors whereas Auto Ventshade is known for their in-channel options. Both brands offer both kinds of window deflector, so you really can't go wrong either way.
Best Tape-On: Stampede
Best In-Channel: Auto Ventshade
As you can see from the results, Auto Ventshade and Stampede are pretty evenly matched in the world of vent visors. Of course, each model has its own pros and cons, so always do more digging before you buy. We always recommend checking user reviews to make sure you're getting a good quality product. Putting in the work to research no will save you a lot of frustration down the line. Learn from the mistakes of others! In all seriousness, we think very highly of both Stampede and Auto Ventshade. You'll be happy with whatever product you get. To see the other visors we offer, visit: Window Vent Visors