What's New at DECKED - 2022 Truck Accessories You Need
Everyone can agree that owning a pickup truck means you get a capable and dynamic vehicle straight out of the factory. They offer the complete package, with four-wheel drive, additional storage space in the truck bed, strong towing ability, sufficient terrain clearance, and more. However, owners of pickup trucks face one common problem: how to arrange and secure the items in the bed? Owners have several solutions for this. They opt for pickup truck accessories like tonneau covers, or they settle for the factory-built under-bed trunks (if they own a model that offers them).
The folks at Decked have introduced a foolproof solution. The Decked storage unit addresses every issue; drawers for your goods, benefits of a tonneau cover, and space on the bed to carry larger objects. First, let's find out what Decked is and whether their products are worth your hard-earned cash.
Are Decked Accessories Worth It
The Decked Company was established in 2013. However, Decked had over three years of engineering and design research at its core well before it started offering products to the public. Having the goal of improving the everyday lives of working men and women at their hearts, they introduced the Decked storage drawer system, followed by a variety of pickup truck accessories. Moreover, Decked takes pride in manufacturing its products using recycled materials in the USA.
At Leonard Accessories, we recommend you take a look at their products. But it's not just us; Forbes Wheels have picked Decked products as Best Truck Bed Storage Solutions For 2022. Car And Driver have featured Decked Truck Box reviews mentioning that they are a versatile fix. Now that you know a bit more about the brand, we'll go over a few of their popular products and explain how they can benefit you.
The Newest Truck Gadgets From Decked
Since its debut in 2013, Decked has experience in producing custom-designed drawer systems to fit any pickup truck make, model, and year. You can choose extra accessories from Decked to make the most of your truck bed drawer system as well. Here are some of the most recent editions Decked has granted to make your pickup handier.
Decked Tool Box
This ultra-durable, waterproof truck toolbox comes with a driver-side lock and key set. Don't want to crawl in and out of the truck bed all the time? Decked thought so too. This toolbox comes with an optional ladder that quickly lowers to the ground, takes up little room, and telescopes fully into the truck toolbox. This 76.1-inch long toolbox is 22.3 inches wide and has a height of 20.6 inches. You also get a D-Box (portable toolbox) as standard, with hangers inside the tub to keep it in place. There is also a new tray and practical cargo storage for small tools and equipment.
Decked D-BOX Toolbox
The Decked D-Box is designed to maximize storage efficiency and organization. It is tailored to be accommodated within the Decked Drawer System, and, as we mentioned earlier, the Tool Box. Whether the drawer is full-sized or midsized, this toolbox fits in, plus you get detachable D-Box dividers inside for better arrangement. Designed to carry a 50 kg maximum weight, it has been proven to be able to withstand a fall from a pickup truck's tailgate height.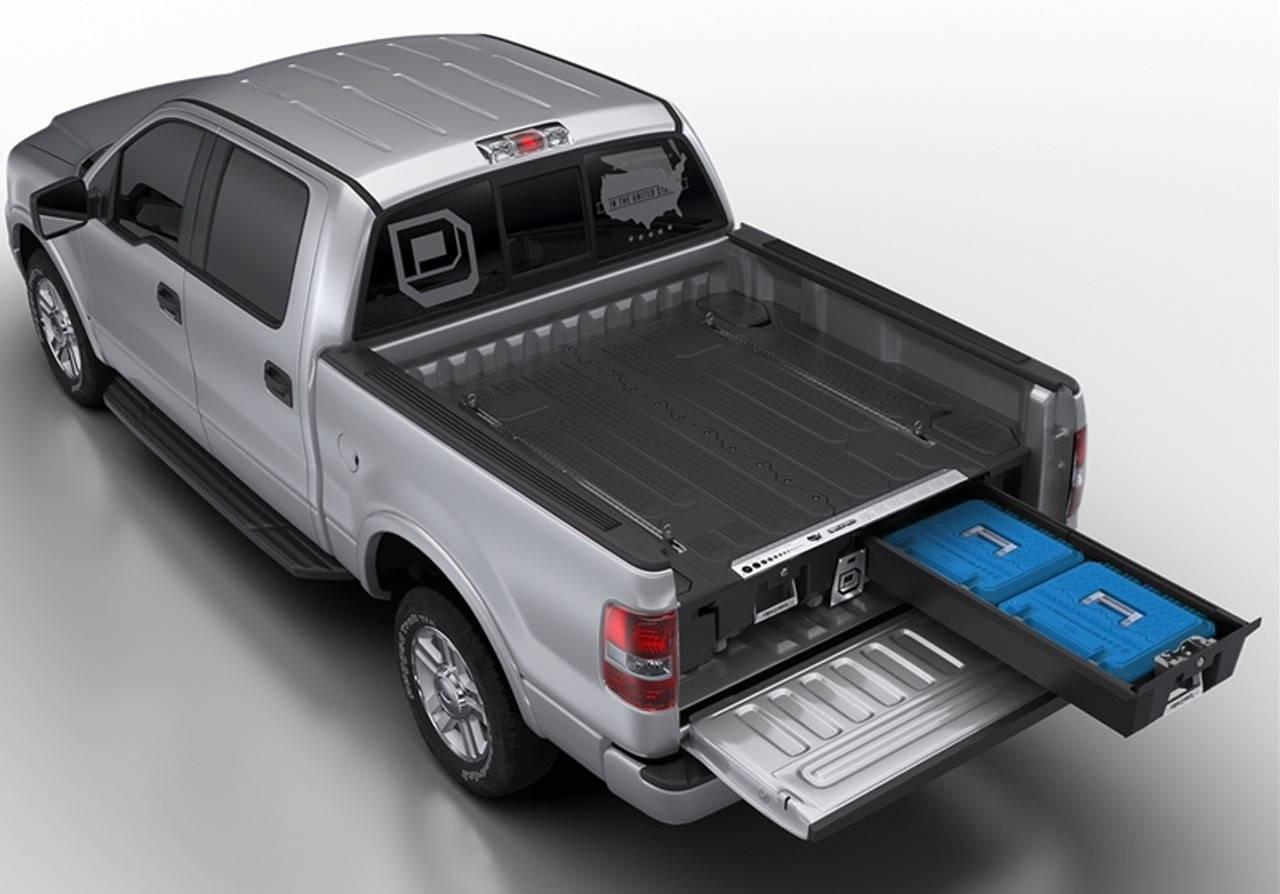 Decked Crossbox
This is the younger brother of the D-Box: precisely half the size of it. Just like its sibling, it fits in all Decked drawers and toolboxes but comes with small removable parts and a tool tray instead of dividers. The maximum weight is limited to 40lb, and, yes, you can still drop it from the height of a pickup tailgate without damaging it.
Decked Drawerganizers
These are designed to securely organize all the loose items that are strewn about your Decked drawers. They nest into the handle end of any Decked drawer, except for midsize truck narrow drawers. There are two sizes available. The volume of the smaller Drawerganizer is 696 cubic inches, whereas the larger Double Drawerganizer offers 1,761 cubic inches.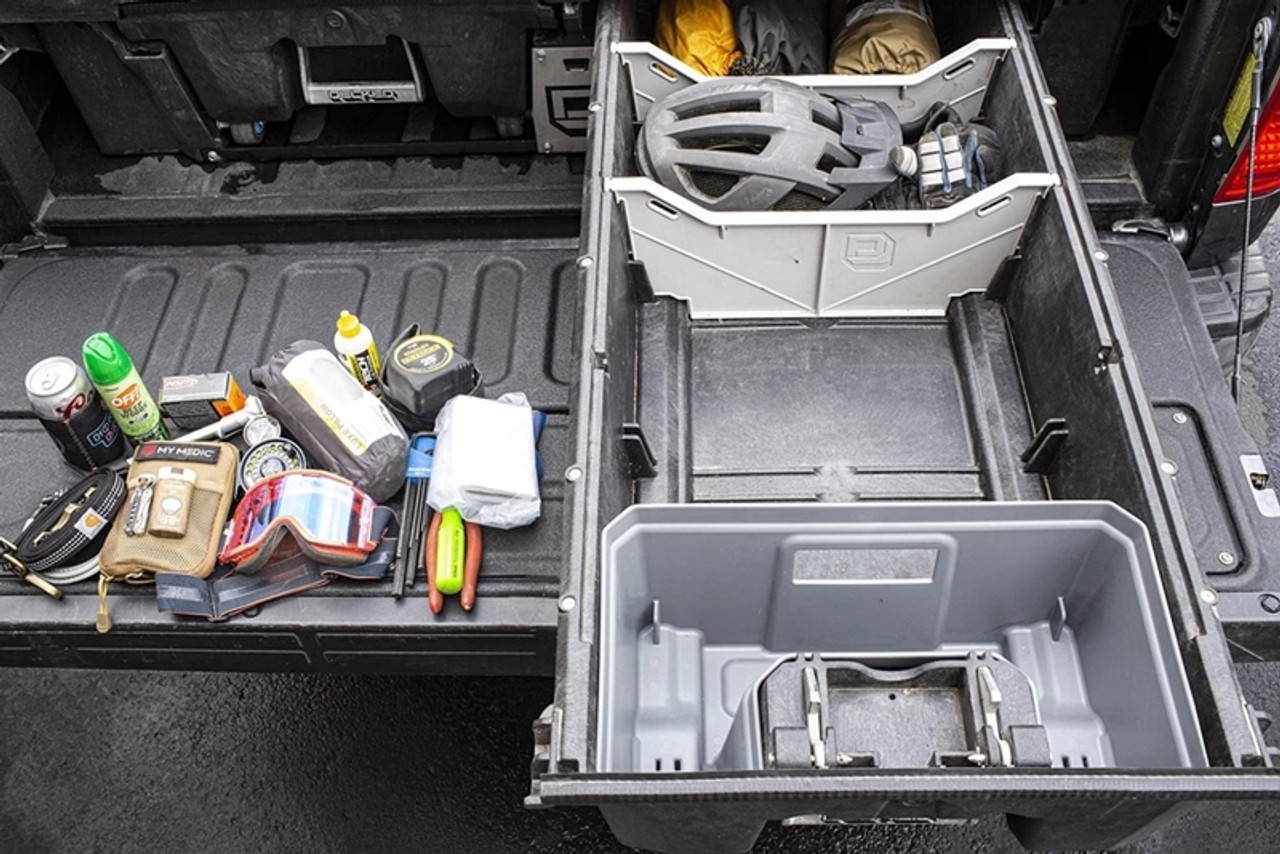 Decked Truck Bed Mats
Decked offers two types of truck bed mats that are tailored to fit perfectly on their drawer systems. Starting with the Truck Bed Battle Mat, it is made of recycled Nyracord rubber and acts as a strong and grippy surface for whatever you want to load on top of the drawers. They are only available for full-size Drawer Systems. On the other hand, The Decked Seadek Traction Mat is an excellent soft, grippy surface to accommodate less aggressive loads. Made of closed cell 6mm EVA foam, it fits on all Decked drawers.
Benefits For You
Decked is one of the more sought-after brands on our website that provides unique solutions for practical truck bed storage. Their passion for perfection and their use of recycled materials yields high-quality, long-lasting, and functional products that can meet every customer's expectations. Besides, you can now save 10% off your order for Decked products on our website, so hurry and take your pick!